Hello ‍‍

Updates on GIs developments and oriGIn policy & advocacy activities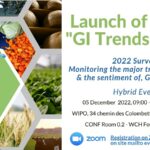 21/11/2022-On 5 December in Geneva, at the World Intellectual property Organization (WIPO), oriGIn presents the results of the 2022 "GI Trends" Panel
On 5 December, oriGIn will present the results of its 2022 "GI Trends" Panel at a hybrid event in Geneva, taking place from 9.00 am to 10 am (CET) at the World Intellectual Property Organization (CONF Room 0.2 - WCH Foyer ground floor). The presentation can also be followed on ZOOM as of 9.30 (click here for more details). If you are interested to participate in person, please send an email to events@origin-gi.com . To follow the event on ZOOM, please click here to register and to obtain the link.
The oriGIn "GI Trends Panel" has the objective to monitor, on a yearly...
---
| | Website sections for more information  |
| --- | --- |
You have received this email because you are a Member of oriGIn or provided your contact to oriGIn.