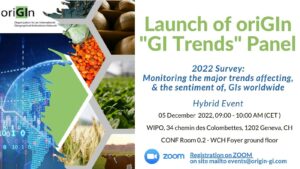 On 5 December, oriGIn presented the results of its 2022 "GI Trends" Panel at a hybrid event in Geneva, which took place at the World Intellectual Property Organization (WIPO).
The oriGIn "GI Trends Panel" has the objective to monitor, on a yearly basis, the major economic trends affecting, and the sentiment of, GIs worldwide. The 2022 Panel was composed by 21 GI groups from 13 countries and 5 continents, representing some of the most relevant GIs in terms of turnover and export worldwide in the agricultural, wines, spirits and craft sectors. For future editions, the Panel will be open to additional interested groups.
The 2022 survey produced interesting results. Among them, the impressive Panel aggregate turnover and export and the sector commitment to further respond to sustainability challenges. This exercise – which we intend to repeat every year and present in a different location around the world – has the potential to reinforce the common identity of GIs as well as to provide arguments to support targeted and need-based advocacy campaigns.
Download the survey full report (only in English)
Read the Press release