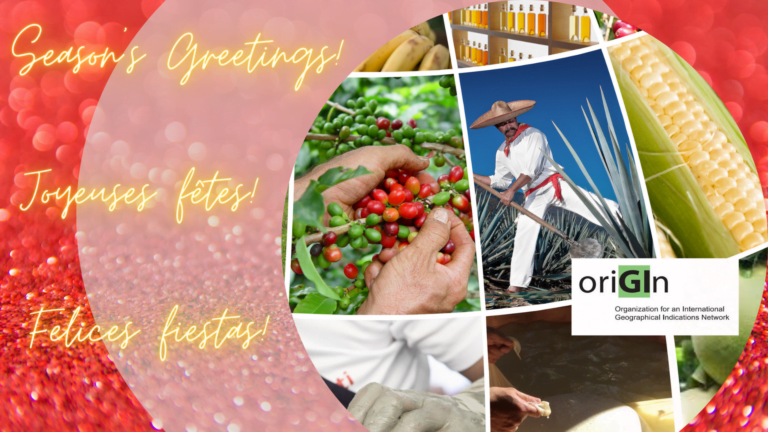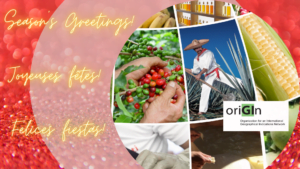 Dear members and oriGIn community,
As 2022 draws to a close, we want to offer our holiday wishes and reflections on what we have done together this year.
First of all, 2022 has seen the launch of a new oriGIn initiative, which we believe has the potential to reinforce the common identity of GIs worldwide. The "GI Trends Panel" survey, presented in Geneva at the WIPO headquarters earlier this month, has the objective to monitor, on a yearly basis, the major economic trends affecting, and the sentiment of, GIs worldwide. The Panel – composed by 21 GI groups from 13 countries and 5 continents – represents 63.4 billion EUR of aggregate turnover and 45.2 billion EUR of export  – We are already working on the 2023 survey edition, which will be opened to additional groups and presented in Singapore in May next year.
In 2022, we have pursued our advocacy efforts worldwide: at the WIPO (with the Geneva Act having attracted several new contracting parties), at the EUIPO (with our comments to the 2023 version of the office guidelines on trademarks), at the ICANN (with our comments to the Uniform Dispute Resolution Procedure) as well as in several national jurisdictions where our members indicated relevant issues – A specific mentions deserves the EU, where the regional antenna – oriGIn EU – has been established this year, with its governance intended to give representation to national associations as well as the tools for stronger impact in Brussels. This has allowed oriGIn EU to follow closely and impact, among others, on the strategic dossier of the GI Review – We believe oriGIn EU can be a model for the establishment of other regional antennas around the world. In this respect, several fruitful online meetings were held in 2022 among members from Latin America, with the objective to discuss important issues for the region, such as how to promote solid associations and effective controls, as well as launch oriGIn Latin America at our next Biannual Meeting, scheduled in Peru in November 2023.
This year, we are also proud to have continued our policy of partnerships with prestigious institutions, such as the FAO and AfrIPI  to support GI in developing countries to address the issues of sustainability as well as the establishment of GI groups and control systems.
Overall, 2022 reinforced our conviction that GIs represent a tremendous model of sustainable and bottom-up development and that oriGIn can play a crucial role to ensure this is recognized internationally. That's why we will renew our efforts in 2023. Please note in your agendas that we will present the 2023 activities program in two online events on 26 January: From 10 am to 11 am CET (members from Europe, Asia Africa and Oceania) and from 4.30 pm to 5.30 pm CET (members from the Americas). We look forward to seeing you there.
Thank you for your confidence and support over the past year. Happy holidays to you and your loved ones.
Riccardo Deserti, President and Massimo Vittori, Managing Director,  of oriGIn