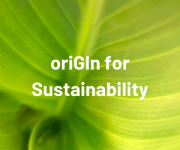 Building a more sustainable future, through a development model which combines harmoniously economic, social and environmental value, is one of the main priority of our generation. While the United Nations Sustainable Development Goals (SDGs) have set targets for 2030, it is up to businesses and individuals to work towards their achievement.
With this in mind, since 2015 oriGIn and the FAO have been collaborating to promote awareness raising and alliances on GIs and sustainable development. The objective of the oriGIn-FAO partnership is two-fold: encouraging GIs to research and communicate their impact on economic, social and environmental sustainability as well as fully understanding the trends in "societal" requests from consumers and policymakers to be prepared to respond to them and improve sustainability performances. This will help GIs to keep thriving in a new world which is rapidly developing and to contribute to a more sustainable future.
In this respect, in 2020 – a year which has accelerated the urgency of the debate over sustainability – oriGIn and the FAO have organized a series of seven webinars on how quality linked to geographical origin can contribute to SDGs. The webinars have generated tremendous interest, with the participation of more than 1.000 participants (average of 150 per webinar) from 90 countries and the involvement of prestigious partners: Equalitas, IPI Switzerland, the European Forest Institute (EFI), the project Life TTGG – the Though Get Going, oriGIn France and the WIPO. Each of these institutions supported oriGIn and the FAO in the organization of individual thematic webinars, which have been the opportunity to learn from advanced experiences in the origin wine sector and strategies for commodities in developing countries, as well as emerging sustainability topics such as opportunities for wild products, the issues related to climate change, the contribution to healthy diets and finally the protection of traditional knowledge for indigenous communities (individual programs and presentations and reports are available at https://www.origin-gi.com/content-page/item/15338-individual-webinars-programs.html)
As highlighted in the final wrapping-up session, the webinars confirmed both the capacity and the urgency for GIs to deal with sustainability issues as well as the need for groups, producers, policy-makers, retailers, donors and international organizations to reinforce their dialogue and cooperation, with the objective to promote a common understanding and language concerning sustainability, as well as common objectives and indicators to measure GIs contribution to sustainability and SDGs. The oriGIn-FAO collaboration will continue in 2021 and the partnerships developed through the webinars will open new interesting opportunities.
For oriGIn activities on sustainability, please consult the dedicated page of our website