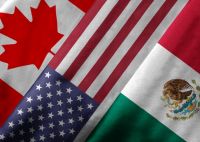 The Distilled Spirits Council is the Trade Association representing the leading producers and marketers of distilled spirits in the US. Among the products represented by the Council, "Bourbon whiskey" and "Tennessee whiskey" can be considered GIs, protected in the US through standards and labelling rules as well as in foreign markets through a number of bilateral agreements negotiated by the Federal Government. For the details of national and international protection, please check oriGIn worldwide GIs compilation
Earlier this month, the Council has sent a letter to commerce secretary Wilbur Ross, and trade representative Robert Lighthizer asking the US Government to end the retaliatory tariffs with Mexico and Canada, which are negatively affecting the sector. The Council is also in favor of the Congressional approval of the US-Mexico-Canada Agreement (USMCA), which is supposed to replace the NAFTA.
The USMCA reaffirms commitments on tariff-free trade in spirits and provides distinctive product recognition for '"Bourbon whiskey" and "Tennessee whiskey" in Canada and Mexico, "American rye whiskey" in Mexico and "Canadian whisky", "Tequila" and "Mezcal" in the US.
More information @ https://www.thespiritsbusiness.com/2019/01/distilled-spirits-council-calls-for-end-to-trade-wars/
This summary has been extracted from an "oriGIn Alert", which is a service reserved exclusively to oriGIn members. Click here to join oriGIn
For more information about bilateral and plurilateral agreements covering GIs see the concerning category in the section Policy and Advocacy