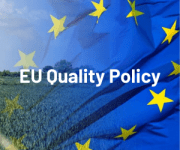 Following the publication by the European Commission of the proposal for the post 2020 CAP in June 2018, oriGIn has been working to improve the rules concerning GIs to ensure the simplification of procedures, the strengthening of protection and the incorporation of sustainability issues in the EU Quality Policy.
In April 2019, The European Parliament's Committee on Agriculture and Rural Development had voted reports (CMO&1151 report and CAP strategy plan report) that took into account several issues pushed by oriGIn, such as:
Strengthened protection: against weakening and dilution of the reputation of PDO/PGI; with respect to goods – infringing PDO/PGI – in transit and sold online; with respect to second level domain names' registrations corresponding to PDO/PGI, carried out in bad faith;
Maintaining the human factor as mandatory for PDO;
Introduction of the possibility to include elements concerning sustainability in product's specifications;
Extension to all GIs sectors of the possibility, under certain circumstances, to manage production volumes within value chains.
Following the European election in May 2019, oriGIn has been working to push additional amendments (in particular aimed at ensuring a better distribution of value within GIs chains) in view of the European Parliament plenary vote on the post 2002 CAP (to be scheduled in the following months).