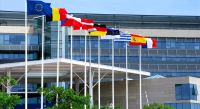 Earlier in June, the European Observatory on Infringements of Intellectual Property (IP) rights of the EUIPO launched the new IP Enforcement portal
This portal – which is the integration of the Enforcement Database (EDB) – will serve as a secure communication tool between IP rights holders, EU enforcement authorities, the EU Commission and its EU delegations around the world, becoming the single EU platform to deal with IP rights enforcement.
This initiative shows the EUIPO commitment to support the IP enforcement community in the fight against counterfeiting. oriGIn is in touch with the EUIPO to organize a dedicated session for GIs groups on the use and benefits for GIs of the new IP Enforcement portal.
This summary has been extracted from an "oriGIn Alert", which is a service reserved exclusively to oriGIn members. Click here to join oriGIn
For more information about GI Enforcement see the concerning category in the section Policy and Advocacy