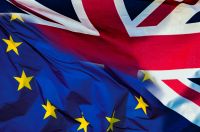 "Brexit" has finally occurred on January 31. Following the Revised Withdrawal Agreement ratified by both parties, a transition period has begun and will run until December 31, 2020. Within this period, GIs from both parties will continue to be protected in the two jurisdictions. The scope and terms of the future partnership between the EU and the UK will be determined by negotiations among the parties, which must be concluded before the end of 2020, given the UK expressed unavailability to extend the transition phase. In this respect, the European Commission recommendation to the Council to open negotiations on a new partnership with the United Kingdom and the UK negotiation guidelines are now publicly available. From the EU point of view, the envisaged partnership should provide for the protection and enforcement of intellectual property rights, including GIs, going beyond the standards of the WTO TRIPs Agreement. Likewise, the envisaged partnership should preserve the protection of existing GIs as provided for in the Revised Withdrawal Agreement and establish a mechanism for the protection of future GIs. In this respect, it does not seem to be clear what will happen to existing GIs from both parties in case a trade deal is not concluded at the end of the transition period. According to a document recently published by the UK Department for Environment Food & Rural Affairs (DEFRA), in such a scenario, existing EU GIs will have to re-apply for protection in the UK, and existing UK GIs will have to do the same in the EU.
In this context of legal uncertainty, oriGIn will continue to advocate in Brussels and London, as done since 2017, for the following principles:
Maximum retention of rights for GIs beneficiaries;
Minimum burden and costs for GIs beneficiaries;
Minimum disruption of trade.