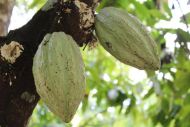 #Peru #CacaoAmazonasPeru
On 31 August, "Cacao Amazonas Peru" was recognized as GI in Peru. Together with Pisco, Maíz Blanco Gigante Cusco, Chulucanas, Pallar de Ica, Café Villa Rica, Loche de Lambayeque, Café Machu Picchu-Huadquiña, Maca Junín-Pasco and Aceituna de Tacna, 10 GIs are now recognized in Peru.
"Cacao Amazonas Perú" is grown at an altitude between 450 and 1,200 metres above sea level in the Amazona region, in the provinces of Bagua (including the districts of Imaza, Copallín, La Peca, Aramango, El Parco y Bagua) and Utcubamba (including the Cajaruro, Bagua Grande, Cumba, El Milagro y Lonya Grande). Some 1200 families are involved in the cultivation and production of "Cacao Amazonas Perú". Cacao fruits in this area are tasty and have a typical smell of nuts, almonds and hazelnuts. The geographical environment, with its temperatures as well as its humidity and shadow, contributes to give the product its unique characteristics.
More information (in Spanish) @ El Indecopi entrega décima Denominación de Origen Cacao Amazonas Perú que contribuirá al desarrollo económico de más de 1,200 productores
#Mexico #CacaoGrijalva
On 29 August, "Cacao Grijalva" became the 15th GI recognized in Mexico (the others are:Tequila, Mezcal, Olinalá, Talavera, Bacanora, Ámbar de Chiapas, Café Veracruz, Sotol, Café Chiapas, Charanda, Mango Ataúlfo del Soconusco de Chiapas, Vainilla de Papantla, Chile Habanero de la Península de Yucatán y Arroz del Estado de Morelos).
"Cacao Grijalva" is grown in the Grijalva region (in particular, sub regions of Chontalpa, Sierra y Centro) in the State of Tabasco, in the so-called "Selvas domesticadas". This is one of the largest area for the production of cocoa in Mexico since the pre-Hispanic era, due to its climate, which makes this area ideal for the plantation of cocoa and gives the product unique characteristics of aroma, taste and consistency. Cacao beans in the Grijalva region are fermented according to ancestral methods, which also contribute to give the product unique characteristics.
More information (in Spanish) @ http://www.gob.mx/impi/prensa/cacao-grijalva-se-convierte-en-la-15-denominacion-de-origen-mexicana
#Vietnam #NgocLinhGinseng
On 26 August, the "Ngoc Linh ginseng" was recognized as GI in Vietnam, joining the list of some 46 already protected, among them: Buon Ma Thuot coffee in Dak Lak Province, Phu Quoc fish sauce in Kien Giang, Ninh Thuan grape, and Long Khanh rambutan in Dong Nai Province.
"Ngoc Linh ginseng" grows in the wild mainly above 1,500 m altitude in the mountain Ngoc Linh, in the two communes of Mang Ri and Ngoc Lay (District Tu Mo Rong) of Kon Tum province (Central highlands) and in the town of Tra Vinh (district of Nam Tra My) in the Quang Nam, a province on the South Central Coast of Vietnam. The "Ngoc Linh ginseng" is renowned for its medical properties (anti-inflammatory, antioxidant and anti-cancer). As the product is listed in the Red Book of endangered species at national level, the GI strategy aims to encourage its production.
More information @ http://vietnamnews.vn/economy/301959/ngoc-linh-ginseng-gets-geographic-branding.html#jZzsjpaTqEYgdYti.97
This summary has been extracted from an "oriGIn Alert", which is a service reserved exclusively to oriGIn members.