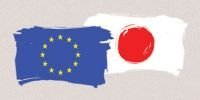 On 12 December the EU Parliament ratified the EU/Japan Economic Partnership Agreement (EPA), following the reccomendation of the International Trade (INTA) Committee .
Like in the case of the free trade agreement with Canada (CETA), once ratified, the EPA provisions in areas where the EU has exclusive competence (including the ones on GIs, article 14.22 to 14.30) will be provisionally implemented. The EPA provides for the recognition and protection of more than 200 EU GIs in Japan (with a number of exceptions and limitations), as well as of 56 Japanese GIs in the EU (see Annex 14 B – List of GIs).
Regarding the next steps, on 29 November and on 8 December the two houses of Japan's National Diet ratified the Economic Partnership Agreement. After the endorsement of the trade deal by the European Parliament, Council is set to give its final go-ahead on 21 December which allows the agreement to enter into force on 1 February 2019.
This summary has been extracted from an "oriGIn Alert", which is a service reserved exclusively to oriGIn members. Click here to join oriGIn
For more information about bilateral and plurilateral agreements covering GIs see the concerning category in the section Policy and Advocacy