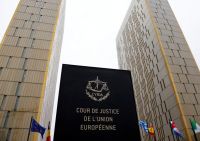 On 7 June, the Court of Justice of the European Union (CJEU) published an interesting judgement in Case C-44/17. Following the action initiated in Germany by the Scotch Whisky Association (SWA), the Court of Hamburg had asked the CJEU to interpret EU legislation on GIs spirit drinks (Regulation (EC) No 110/2008), in particular with respect to the depth of "evocation". The case opposes the SWA and a distillery located in Germany, which produces and markets whisky under the designation "Glen Buchenbach". The product's label also indicates "German product". The SWA considers that the use of the term "Glen", in connection with whisky, infringes the GI "Scotch Whisky" as it is liable to cause consumers to make an inappropriate connection to the GI. "Glen" in fact is widely used in Scotland to refer to "valley" and is an element of the trade mark of Scotch Whisky producers.
With respect to the concept of evocation, which is a powerful tool to protect GIs against the exploitation of their reputation and other practices which aim at establishing a connection between the products sold and GIs, the main elements of the judgement are:
The "conceptual" proximity between a GI and the contested name can result in an evocation. This has to be evaluated by national courts, taking into account the fact that an average European consumer, who is reasonably well informed and observant and circumspect, when confronted with the name at issue, the image triggered in his mind is that of the product whose indication is protected. This is the first case which puts it beyond doubt that evocation can exist even where the name at issue is not similar phonetically or visually to the GI.
The indication of the true origin of the good at issue does not exclude automatically the evocation of a GI.
As a result, in the present case, the German court will have to determine whether an average European consumer thinks directly about the GI "Scotch Whisky" when he is confronted with a comparable product bearing the name "Glen" ("Glen Buchenbach" whisky).
See the judgement full text and the press release
This summary has been extracted from an "oriGIn Alert", which is a service reserved exclusively to oriGIn members. Click here to join oriGIn
For more information about GIs & Enforcement see the category "Enforcement" in the section Policy and Advocacy