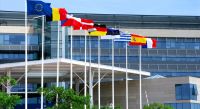 The decision adopted by the Opposition Division of the European Union Intellectual property Office (EUIPO) concerning the trademark international registration designating the European Union No 1 474 686 'CHAMPAWS', for pet foods and pet beverages (Class 31), confirms that protection against GIs evocation in the EU is not limited to comparable goods, but also extends to non-comparable products and service.
The Comité Champagne (CIVC) and the "Institut National de l'Origine et de la qualité" (INAO) had opposed the registration of 'Champaws' on the basis of Article 8(6) EUTMR, considering that such sign represents an evocation of the Protected Designation of Origin ('PDO') 'Champagne', according to Article 103(2)(b) of Regulation No 1308/2013. In its decision, the Opposition Division confirmed the Comité Champagne and INAO views, rejecting the trademark application in light of the visual and phonetic similarities between the signs ('CHAMPAWS' and 'Champagne') and, while the goods are not comparable, a certain proximity between them, sufficient for the public to make a clear and direct connection. In this context, the Opposition Division recalled that the protection granted to GIs in the EU aims not only at enabling consumers to make more informed purchasing choices but also at preventing uses which take advantage of the reputation enjoyed by complying products and promoting fair competition. In the case at stake, the image of prestige and luxury, festivities and glamour of Champagne wines was clearly being used by the trademark applicant to promote its goods.
A proactive approach by groups in the protection and promotion of a GI is crucial for its success. Congratulations to the Comité Champagne for the recognition by the EUIPO that "the wine growers from the Champagne region and the CIVC dedicate investments and efforts to promote and protect the 'Champagne' PDO".
For more details on the oriGIn efforts to raise awareness on the evocation case law, please consult the dedicated page of our website.