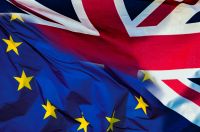 Following the 2018 consultation on UK GIs schemes after Brexit, the Government published a summary of the 92 responses received (including the one of oriGIn) and its response.
Meanwhile, as the withdrawal agreement negotiated at the end of 2018 was rejected by the UK Parliament, the risks of a "no-deal scenario" have risen. On GIs, the withdrawal agreement provided for a transition period until the 31st of December 2020, during which the status quo would have been guaranteed (existing EU GIs protected in the UK and existing UK GIs protected in the EU). This would have reduced trade tensions and given the parties the time to negotiate a comprehensive trade agreement.
In the absence of a deal on Brexit, and before a new GI system is implemented in the UK, EU GIs groups would have only the trademark system available to seek Intellectual Property protection in the UK.
This summary has been extracted from an "oriGIn Alert", which is a service reserved exclusively to oriGIn members. Click here to join oriGIn
For more information about bilateral and plurilateral agreements covering GIs see the concerning category in the section Policy and Advocacy