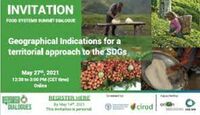 The global expansion of Chinese Internet marketplaces, such as ALIBABA, TMALL, or JD.COM, means that illegal Chinese products with counterfeit GIs are being exported to more and more countries. This results not only in loss of sales for the original manufacturers, but also in damage to their reputation. Their valuable brands are diluted, in some cases there is even the risk of claims for damages from misled customers.
Meanwhile, the legal framework for combating this type of counterfeiting in China has improved significantly. The Chinese Government's awareness of the problem has grown and there are protection agreements with authorities of other countries. Thus, the prospects of effectively combating counterfeiters at source in China are improving.
CHINABRAND IP CONSULTING, a German service provider with 15 years of experience in combating Chinese and international brand and product piracy, is an associate member of oriGIn. It will organize a free one-hour webinar in English language about innovative strategies, sustainable methods, and effective instruments for fighting against counterfeiting and GIs infringement.
Webinar Date: Thursday, August 22, 2019 at 4 p.m. CEST (2 p.m. UTC, 10 a.m. EST)
Webinar Link: https://bit.ly/2XsmQai
CHINABRAND IP CONSULTING is attending the oriGIn 2019 Biannual Meeting in Tbilisi (Georgia) and is available for further questions.