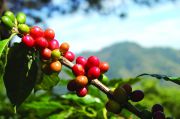 On 26 June, "Café de Valdesia" (Dominican Republic) – was recognised in the EU as Protected Designation of Origin (PDO). "Café de Valdesia" is Arabica coffee of the Typica and Caturra varieties, which is grown in the main coffee-growing areas in the provinces of Ocoa, Peravia and San Cristóbal in the Dominican Republic. The coffee-berry production area is located between 600 metres and 1.300 metres above sea level. The bean size and average sucrose and caffeine content is higher than that of coffees produced elsewhere in the country.
More information @ http://ec.europa.eu/agriculture/quality/door/registeredName.html?denominationId=10800&locale=en
This summary has been extracted from an "oriGIn Alert", which is a service reserved exclusively to oriGIn members.