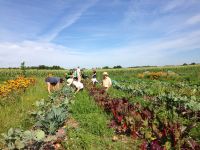 The interest for origin food and fair advertising practices keep growing in the U.S.
On the one hand, deceptive advertising lawsuits multiply. Recently, the Kona Brewing Company has been accused of misleading customers by claiming its beer is produced in Hawaii, exploiting an existing strong consumer sentiment for Hawaiian-made products (http://www.foodandwine.com/news/kona-latest-beer-company-be-sued-deceptive-advertising )
On the other hand, local food sales in the U.S. grew from $5 billion to $12 billion between 2008 and 2014, according to food industry research firm Packaged Facts. The same study predicted local food sales would jump to $20 billion in 2019, outpacing the growth of the country's total food and beverage sales. The U.S. Department of Agriculture estimates that, in 2015, over 167,000 farms sold approximately $9 billion in local food either directly to consumers or through grocery retailers. In this context, the George Washington University recently hosted the Local Food Impacts Conference to investigate how investment has been affecting the local food landscape and identify criteria a product has to meet to be considered local as well as to help consumers to recognize local food (http://www.businessinsider.com/the-demand-for-local-food-is-growing-2017-4?IR=T & https://gwtoday.gwu.edu/local-foods-are-here-stay ).
This summary has been extracted from an "oriGIn Alert", which is a service reserved exclusively to oriGIn members.