{autotoc option1=value1|option2=value2|…|optionN=valueN}
World Intellectual Property Day 2018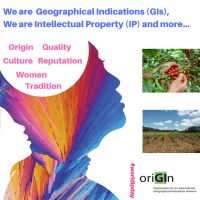 Dear member,
Every 26 April WIPO celebrates the World Intellectual Property Day to promote intellectual property rights (IPRs). This year edition is dedicated to women and their role in intellectual property.
oriGIn will take part in the 2018 World Intellectual Property Day with various initiatives, to stress the economic and cultural importance of GIs as IPRs. You can join us by:
Sending out this oriGIn poster (realized based on the official 2018 World Intellectual Property Day poster) via the social networks using the #worldipday hashtag (you can also modify the official poster, by adding for instance your own logo and text);
Disseminating the oriGIn press release, which you will receive in the morning of April 26;
Writing your own press release, mentioning GIs as IPRs as well as, whether possible, stories related to the GIs you represent where women play a key role in preserving the GIs tradition, as well as in matching it with elements of innovation and creativity.