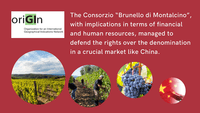 "Brunello di Montalcino" is a famous Italian wine PDO recognized at the EU level as well as in several foreign jurisdictions via bilateral agreements .
Prior to the protection in China conferred to the PDO by the bilateral agreement with the EU – which entered into force in March 2021 – the Consorzio representing "Brunello di Montalcino" had secured protection in that jurisdiction via the registration of a trademark. Based on this, in 2020 the Consorzio fought the registration by a local company (J. C. Boutique Limited) of the trademarks No. 19478661, No. 19499293 and No. 19480760 for "Brunello di Montalcino", in classes 18, 21 and 35.
In this respect, in September 2020 the Consorzio, through its law firm, filed invalidation as well as non-use cancellation actions against the above-mentioned trademarks. In May 2021, the Consorzio received a favorable decision concerning the invalidation actions, as the National Intellectual Property Office (CNIPA) – according to Articles 44.1, 44.3, 45.2, and 46 of the Chinese Trademark Law – concluded that the trademarks at issue violate the principle of good faith, undermine the trademark administration order and impair fair competition in the market. The evidence submitted by the Consorzio was sufficient to prove the reputation of "Brunello di Montalcino" wine in the Chinese market before the application of the conflicting trademarks. Likewise, in July 2021, the Consorzio received the favorable decision concerning the non-use cancellation action against the trademark No. 19499293 in class 21, as according to the CNIPA, the Chinese company failed to provide the relevant use evidence within the period. The other non-use cancellation actions are still pending before the Office.
Congratulations to the Consorzio "Brunello di Montalcino". With implications in terms of financial and human resources, it managed to defend the rights over the denomination in a crucial market like China, where the presence of trademarks identical to the PDO might have caused serious economic damages to the producers.