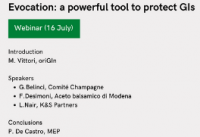 The second webinar of the series "the oriGIn International GIs agenda" was held on 16 July, with the participation of GIs groups, IP offices, policy-makers, law firms and universities from 25 countries. It addressed the concept of evocation in the EU legislation and case law as well as similar approaches in other jurisdictions.
The following presentations were delivered:
Massimo Vittori, Managing Director of oriGIn, gave an overview of the legal basis and recent case law concerning evocation in the EU
Giulia Belinci, Legal Advisor at Comité Champagne, presented recent cases concerning the PDO Champagne, related to the registration of trademarks associated to goods not comparable with wine, and even to services, that exploit the PDO reputation.
Federico Desimoni, Director of the Consorzio Aceto balsamico di Modena, presented a case concerning the PGI Aceto balsamico di Modena in which the court unfortunately did not look at issue form the point of view of evocation.
Latha Nair, Partner at K&S Partners, presented recent cases concerning the protection of the GI Scotch Whisky in India. While coming from a different legal perspective which does not provide the concept of evocation, Indian tribunal reached similar conclusions concerning the depth of protection vis-à-vis subtle attempts to the GI reputation.
Finally Paolo De Castro, MEP, concluded that evocation is a powerful legal tool to protect GIs and there is a need and room for consolidating the concept in future reforms of the EU Regulations.
oriGIn will continue its activities aimed to spread the knowledge about evocation in the EU, consolidate it in the legislation and further develop the concept at the international level.