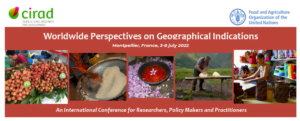 The conference "Global Perspectives on Geographical Indications: An International Conference for Researchers, Policymakers and Practitioners" took place in Montpellier (France) on 5-8 July. The event, which gathered more than 150 participants (producers, academics, policy makers, representatives of international organizations and practitioners), was organized by the Food and Agriculture Organization of the United Nations (FAO) and the Centre de coopération internationale en recherche agronomique pour le développement (CIRAD), with the support of IPI Switzerland and oriGIn as well as other partners. 
Some of the crucial factors for the success of GIs – solid groups, controls, robust protection and sustainability – were thoroughly debated. oriGIn and its members and partners were directly involved in several sessions:
Keynote Highlights (oriGIn);
Panel Regional Overview (oriGIn);
Different approaches to measure and improve GI sustainability (FAO);
Africa thematic session (oriGIn);    
The variety of GI contributions to sustainability (CANOL).
The full program and contributions are available on the conference website.
To know more about oriGIn events, please have a look at the dedicated page of our website.