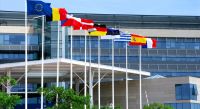 Following a trend of the last years towards the consolidation of GI protection vis-à-vis conflicting trademark applications filed after a GI is registered, interesting decisions have been adopted by the European Union Intellectual Property Office (EUIPO) in the first part of 2021. Two cases to show this trend:
The EUIPO Board of Appeal has recently ruled that the term "torta", in relation to cheeses, is exclusive to the Spanish PDO "Torta del Casar". The dispute was initiated back in 2012 when the group representing the PDO had opposed the registration of the figurative mark "Queso y Torta de la Serena", applied for by the group in charge of the PDO "Queso de la Serena". Following the dismissal of the opposition, the case had reached the General Court of the European Union, which reviewed the decision. The EUIPO Board of Appeal has finally established that the opposition filed by group in charge of the PDO "Torta del Casar" should be admitted in its entirety and refused the registration of the above-mentioned trademark. See the decision (in Spanish).
On the other hand, the Opposition Division of the EUIPO has recently rejected the European Union trademark application (No 18 139 271) for 'THE PORT HOUSE' (for various services in class 43), filed by Ruaway Limited, a company based in Ireland. The application had been opposed by the "Instituto dos Vinhos do Douro e do Porto" on the basis of the Protected Designation of Origin 'Port', . The Opposition Division found that the use of the contested sign for the applicant's services in Class 43 is likely to affect the consumer's preferences by inducing them to believe that the applicant's services consist of, or include, provision of wine compliant with strict requirements and quality standards of the PDO 'Port', which enjoys extensive reputation and appreciation, among European consumers, for its characteristic qualities. The use of the contested sign would not only benefit from a transfer of the distinctive qualities of the PDO 'Port' that it has gained over the years, which in turn would enhance the contested mark's ability to stand out among its competitors, but it would also benefit from the transfer of the PDO's image of a prestigious and traditional well-established wine with a long history on the market in the EU. The Opposition Division decision is available @ https://euipo.europa.eu/eSearch/#details/trademarks/018139271/opposition/003104401
On the relations between GIs and trademarks, please consult the dedicated page of our website.