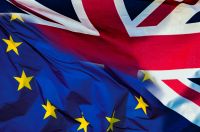 Since the Brexit referendum in 2016 and the legal uncertainty that followed, oriGIn has been actively campaigning in support of the maximum retention of rights for GIs beneficiaries from both the EU and the UK.
With the adoption of the EU-UK Trade and Cooperation Agreement (TCA) in December 2020, GIs issues have been clarified. In particular:
The TCA confirmed the Withdrawal Agreement approach concerning the permanent protection in the UK of the stock of EU GIs recognized as at 31 December 2020 (this also applies to the third countries GIs protected in the EU at the same date via direct registration, see https://www.gov.uk/protected-food-drink-names) as well as permanent protection in the EU of the stock of UK GIs recognized under the EU schemes as at 31 December 2020.
The level of protection granted to the stock of protected GIs is (and must remain, there are obligations in this respect) at least the one available in the EU as at 31 December 2020 (including protection against "evocations" as well as the ex officio protection). Should GI policy evolve in the EU (in terms of more solid protection: in the framework of the new CAP, for instance, the enhancement of GI protection on the Internet is under discussion), while the UK will have no obligation to follow suit, a convergence of legislation can be expected.
Pending (as at 31 December 2020) and new GIs applications will have to follow the respective schemes. For pending and new EU GIs, a new application will need to be submitted at the UK Department for Environment, Food and Rural Affairs (DEFRA).
The new UK GIs scheme replicates the characteristics of the EU schemes:
It covers agricultural products, spirits, wines and aromatized wines;
It provides a solid level of protection (including against "evocations") for Protected Designation of Origin (PDO) and Protected Geographical Indication (PGI);
It is open to third countries GIs;
It provides GI logos (which, like in the EU, will be optional for producers of wines and spirits). Producers or retailers of food and agricultural GIs produced and for sale in the UK, and registered before 1 January 2021, will have until 1 January 2024 to change packaging and marketing materials to display the new UK GI logos.
e. With respect to the UK GIs protected in the EU bilateral agreements, they became "obsolete" following Brexit and the TCA. As a result, they will be progressively taken out of the GI lists contained in those agreements. The UK Government, though, is concluding "roll over" agreements with the objective to ensure continuity of protection for UK GIs in third countries.