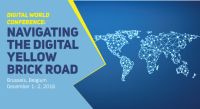 On December 2, oriGIn organized and moderated a panel on "GIs on the Internet: Challenges Related to gTLDs and E-Commerce" at the INTA Digital World Conference in Brussels.
The objective of the panel was twofold:
On the one hand, the panel discussed the limits to protect GIs registered as second level Internet domain names in the thousand existing generic top-level domains (gTLDs), such as ".com", ".food" and ".coffee". Meanwhile, several country code top-level domains (ccTLDs), such as ".fr", recognize GIs (like trademarks and other IPRs), as a valid title to activate dispute resolution mechanisms, and wine GIs obtained recognition in the ".wine"/".vin" through a private agreement negotiated with the company in charge of such strings. The urgent need to allow GIs beneficiaries to fight for their rights in gTLDs and fully benefit the Uniform Domain Name Dispute Resolution Policy (UDRP) was thus evocated.
On the other hand, the innovative agreements signed by the Italian Ministry of Agriculture (the national authority in charge of the GI ex officio protection according to Regulation 1151/2012) with global e-commerce players, such as e-Bay, Alibaba and Amazon, to monitor infringements and protect Italian GIs commercialized on those platforms (with no costs for the GIs beneficiaries) were presented as a model for other EU countries.
For more information see the Speakers' presentations:
This summary has been extracted from an "oriGIn Alert", which is a service reserved exclusively to oriGIn members.