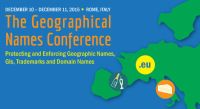 oriGIn and INTA are interested in having clear and not-conflicting relationship between GIs and trademarks. At the forthcoming INTA's Geographical Names Conference (visit www.inta.org/2015GI to learn more about the conference program & networking opportunities) oriGIn has been invited to deliver opening remarks as well as to participate in the panel "A Shared Vision". This has the objective to provide participants with INTA and oriGIn's vision and position on GIs, in particular in the context of the current international trade agreements on GIs, as well as to promote further dialogue between the two Associations.
The Conference will also feature:
Views from government officials on The Policies and Politics of GIs in a Changing World;
Perspectives from brand owners on How the States of Play influences Brand Owners Strategies and Possible Benefits including Cobranding;
Insights about the branding of the new Rome logo in 2015: Rome Wasn't Branded in a Day: Branding of Geographic Names and Cities;
Discussions on current developments at ICANN regarding GIs and the Internet;
Experiences with Fighting in the market: Counterfeiting and Enforcement of Geographical Indicators.
oriGIn's members wishing to register for this conference will benefit from the INTA member registration pricing (for the promo code, please contact ida@origin-gi.com).