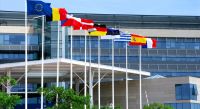 In June, the Opposition Division of the European Union Intellectual Property Office (EUIPO) took an important decision, which further consolidates the concept of evocation in the context of GIs in the EU.
The case at issue concerned the EU trade mark application No 18 170 486 "Hemp-Secco" (figurative mark), requested by an Austrian applicant and opposed (opposition No B 3 124 209) by the Consorzio Prosecco based on the PDO. The contested signed, requested in Classes 32 (soft drinks) and 33 (alcoholic beverages, except beer; wine; sparkling wines; sparkling white wines), consists of the image of a black label on an orange background. The element "Hemp-Secco" is placed in a prominent position compared to the other elements of the contested mark.
The EUIPO Opposition Division concluded that, considering the identity and the proximity of the goods as well as the identified similarities between "Hemp-Secco" and "Prosecco", the use of the contested trade mark in Class 33 as well as in Class 32 will bring into the mind of the consumer the PDO Prosecco. As a result, the contested sign was considered an evocation of the PDO Prosecco within the meaning of Art. 103(2)(b) of regulation (EU) No 1308/2013. The Opposition Division also upheld the opposition submitted by the Consorzio. Find here the Decision's full text.
On the relations between GIs and trademarks as well as the consolidation of the concept of evocation in the EU, please consult the dedicated page of our website.