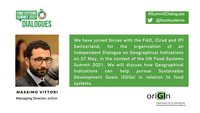 oriGIn is glad to have joined forces with the FAO, Cirad and IPI Switzerland, for the organization of an Independent Dialogue on Geographical Indications on 27 May in the context of the UN Food Systems Summit 2021. We will discuss how Geographical Indications can help pursue Sustainable Development Goals (SDGs) in relation to food systems.
During the opening session, coordinated by our Director Massimo Vittori, the following speakers will deliver introductory remarks:
Maurizio Martina, Assistant Director-General/Special Adviser to the Director-General, Food and Agriculture Organization of the United Nations (FAO), Italy
Delphine Marie Vivien, Deputy Director of UMR Innovation, Cirad Montpellier, France
Pape Tahirou Kanouté, Executive Director, Cabinet Economie-Territoires et Développement, Senegal
Juan Esteban Orduz, President, Colombian Coffee Federation, Inc., Colombia
Miranda Risang Ayu Palar, Ph.D., Head of Intellectual Property Centre on Regulation and Application Studies, Faculty of Law, Universitas Padjadjaran, Indonesia
The discussion continued in "online rooms" around the following themes:
GIs to support market access and fair and equitable value chains;
GIs for quality management, traceability and consumer protection;
GIs to preserve local natural heritage, environment and biodiversity;
GIs to promote cultural identity, and ensure food and dietary diversity.
Over the years, Geographical Indications (GIs) have emerged globally as a powerful Intellectual Property and rural development tool. In this respect, GIs fit perfectly in the context of the Food Systems Summit 2021 Action Track 4, "Advancing Equitable Livelihoods" / Action Area 4.3, "Localizing Food Systems: Strengthening Sustainable Territorial Development. In light of this, the main objective of the independent dialogue was to discuss the conditions under which GIs can be effective tools for building territorial processes towards the achievement of sustainable development goals (SDGs), in particular equitable livelihoods, fair and inclusive value chains and sustainable food systems. The independent dialogue full event report (official dialogue feedback) is now available online at Geographical Indications for a territorial approach to the SDGs – Food Systems Summit Dialogues. 
If you are interested in the topic, please do not forget the international conference "Worldwide perspective on Geographical Indications" that will take place in Rome on 12-15 July 2022. The deadline for written contributions has been extended to 1 October 2021. Registration will open on 1 March 2022.