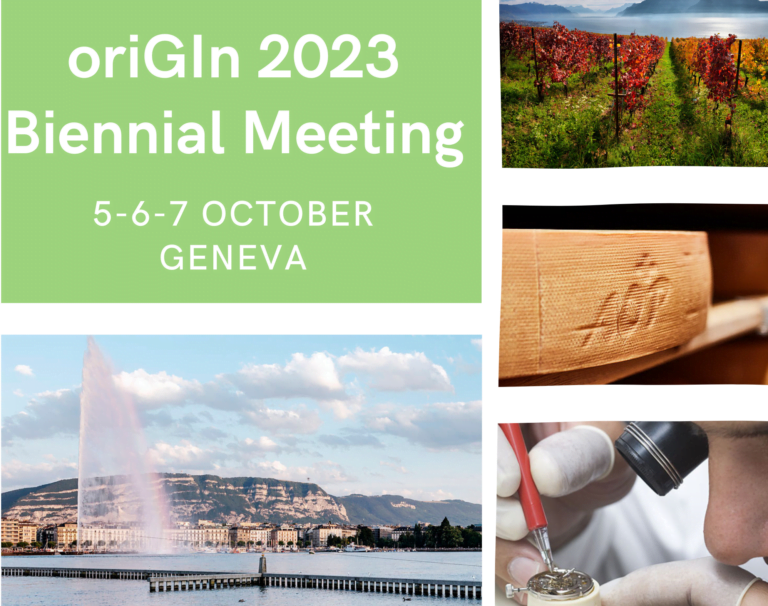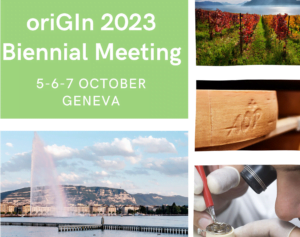 The oriGIn 2023 Biennial Meeting took place in Geneva (Switzerland), at the oriGIn headquarters, Octagon Building, 2 chemin du Pavillon, 1218, Le Grand Saconnex, Geneva (See it on the Map), from 5 to 7 October, 2023.
Geneva – one of the international capitals of global governance for intellectual property, trade and sustainable development – contributed to make this event a unique learning and networking opportunity for public and private GI stakeholders worldwide. Some 200 participants (representatives of GI groups, public authorities, international organizations, negotiators, law firms, control bodies, private companies and academia) from 40 countries attended the event.
On 5 October, the General Assembly renewed the statutory bodies (more details here). Mr. Riccardo Deserti was re-elected President of oriGIn for the next biennium. For more information, please find here the Press Release. 
In terms of program, a mix of tradition and innovation created a favorable environment to share experiences and launch cooperation initiatives.
AGENDA AND PRESENTATIONS
Biennial meeting full program.
oriGIn would like to thank the "Association Suisse des AOP/IGP", the  Federation of Swiss Watch Industry,  the "Interprofession du Gruyère", the Swiss Federal Institute of Intellectual Property (IPI) and the Swiss Federal Office for Agriculture (OFAG) for their support in the organization of the 2023 Biennial Meeting.
Likewise, oriGIn would like to thank all members and partners which have reserved GI exhibition, tasting or informal sessions: Berenguer&Pomares, Bird & Bird, Consejo Regulador del Tequila (CRT), Conseil National des Appellations d'Origine Laitière (CNAOL), Consorzio Aceto Balsamico di Modena, Consorzio Grana Padano, Consorzio Nazionale Grappa and AssoDistil,  Consorzio Parmigiano Reggiano, Consorzio Prosecco DOC, DLA Piper (Italy), De Tullio & Partners, Estrategias y Soluciones en Políticas Pública(EYS), Instituto del Artesano Michoacano, Istituto Salumi Italiani Tutelati (ISIT), INEXTO,  INDECOPI/oriGIn Perú, Sustainable Wine Roundtable, Vlinder.