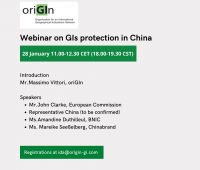 In the framework of the series of webinars "The oriGIn International GIs agenda" a fourth online event was held on 4 February to discuss the latest developments concerning the protection of GIs in China, including the concluded EU-China Agreement (see here the webinar full program).
Mr. Massimo Vittori (oriGIn) introduced the topic recalling that the online event was organized to promote an exchange of information and best practices among GIs groups, public authorities and private sector representatives in light of the recent reorganization of the intellectual property administration in China and the conclusion of the China-EU stand-alone GIs Agreement, which will enter into force on the 1st of March 2021.
Mr. Yue LI (China National Intellectual Property Administration – CNIPA) provided an overview on the system to protect GIs in China, the role of CNIPA as competent authority at the central level and the one of local offices at the provincial level. Mr. Li also presented the official national GIs logo and the administrative measures adopted to simplify the registration procedures. He concluded emphasizing the interest of China in GIs and its expectations related to the Agreement concluded with the EU. Mr. Li presentation is available here GIs protection in China.
Mr. John Clarke (EU Commission, DG Agriculture and Rural Development) presented in detail the EU-China GIs Agreement, which will protect – in its first phase – 100 European GIs in China as well as 100 Chinese GIs in the EU. He described some crucial aspects of the Agreement, such as the high level of protection, the possibility to cover non-agricultural GIs in the future and the opportunity for the Chinese GIs covered by it to use EU logos. Mr. Clark identified promotion and enforcement, including with respect to the e-commerce, as key areas of collaboration between Chinese and EU authorities. Mr. Clarke presentation is available here The EU-China Agreement on Geographical Indications: A landmark Agreement.
Ms. Amandine Duthilleul ("Bureau National Interprofessionnel du Cognac") shared the experience of "Cognac" in China as a part of an overall strategy to ensure the protection of the GI worldwide. "Cognac" was the first foreign GI registered is China in 2009. More recently, the protection was reinforced through a collective trademark registered at the CNIPA. Ms. Duthilleul also mentioned the collaboration with the local authorities as a crucial element to ensure the enforcement of rights in the Chinese market. Ms. Duthilleul presentation is available here GI Cognac protection in China.
Mr. Zihao Liao (ChinaBrand) focused his presentation on enforcement through practical examples of actions taken against GI counterfeiting and other infringements in China. Mr. Liao highlighted the improvement of IP legislation in China Government as well as the growing challenges related to e-commerce. Mr. Liao presentation is available here GI Protection in China: Enforcement of Rights.
More information on GI protection at the national level, and in bilateral/plurilateral agreements covering GIs, is available in the section Policy and Advocacy of our website.