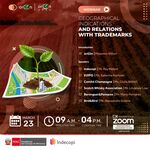 In the framework of our series of webinars "the oriGIn International GIs agenda", a fifth online event was held on 23 March.
The webinar, organized in cooperation with the Peru National Institute for the Defense of Competition and Intellectual Property (INDECOPI) and oriGIn Perú, analyzed from a practical perspective the issue of TMs applications in conflict with GIs (Webinar full program and video presentation) .
Massimo Vittori recalled that the online event was organized to look at a non-exhaustive list of issues of TMs applications in conflict with GIs, with the objective to see how those are dealt with by IP offices, GIs groups and practitioners. The variety of jurisdictions and cases covered has the objective to promote the convergence of laws and practice.
Ray Meloni (INDECOPI), presented the regulatory framework and practice in Perú under the Andean Community framework, including cases managed by INDECOPI. See the presentation
Katarina Kompari (European Union Intellectual Property Office, EUIPO) presented the regulatory framework and practice in the EU, including cases managed by EUIPO. See the presentation
Giulia Belinci (Comité Champagne, CIVC) looked at the issue of TMs applications in conflict with "Champagne" applied for products non-comparable with wine. See the presentation
Lindesay Low (Scotch Whisky Association, SWA) presented the group experience in Nigeria and Taiwan where the GI is protected via the trademark system. See the presentation
Mario Pomares Caballero (Berenguer&Pomares) analyzed the issue of TMs applications which include a limitation to goods produced in conformity with the GI contained in the application. See the presentation
Alessandro Sciarra (Bird&Bird) presented cases of TM applications which misuse GIs. See the presentation
More information on GIs and relation with trademarks is available in the section Policy and Advocacy of our website