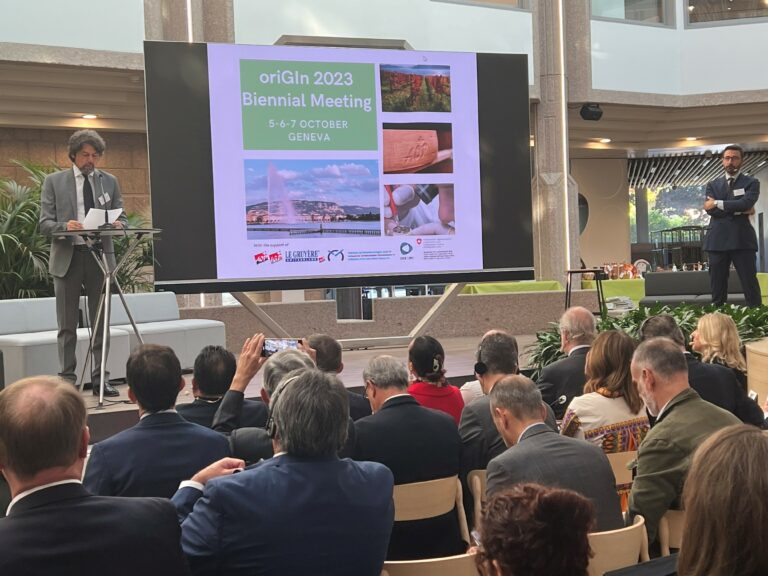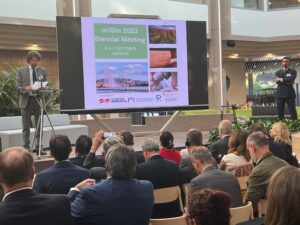 For the oriGIn 2023 Biennial Meeting, held from 5-7 October, 200 representatives of GI groups, public authorities, international organizations, negotiators, law firms, control bodies, private enterprises and academia, from 40 countries, gathered in Geneva for a unique learning and networking opportunity. The event, which coincided with oriGIn's 20th anniversary, was an opportunity to acknowledge the significant progress achieved by GIs over the years at global level, both as recognized intellectual property rights and as tools for the sustainable development of local communities.
The event program mixed tradition and innovation, creating an ideal environment for sharing experiences and initiating partnerships (all presentations are available on the event webpage):
The thematic informal sessions introduced fresh perspectives on GIs (legal, technology, cooperation and sustainability issues), nurturing dialogue and partnerships.
The Statutory Assembly reviewed the activities oriGIn conducted during the last biennium and renewed the statutory bodies. Mr. Riccardo Deserti, Director General of the Consorzio Parmigiano Reggiano, was re-elected President for the next biennium.
The international conference talked some crucial topics for GIs at the global level, such as: The EU GI review, the expansion of the WIPO Geneva Act, the new EU Regulation on craft and industrial GIs, coordination with trade policies, sustainability challenges, strategies to respond to climate change and technical assistance on groups and controls. 
The field visits, organized in collaboration with the Federation of Swiss Watch Industry and the "Interprofession du Gruyère," allowed participants to discover two iconic Swiss GIs, "Swiss Watch" and "Gruyère".
oriGIn would like to extend its sincere gratitude to the sponsors (the "Association Suisse des AOP/IGP", the  Federation of Swiss Watch Industry,  the "Interprofession du Gruyère", the Swiss Federal Institute of Intellectual Property – IPI, and the Swiss Federal Office for Agriculture – OFAG), the members and partners which have reserved GI exhibition, tasting or informal sessions (Berenguer&Pomares, Bird & Bird, Consejo Regulador del Tequila – CRT, Conseil National des Appellations d'Origine Laitière – CNAOL, Consorzio Aceto Balsamico di Modena, Consorzio Grana Padano, Consorzio Nazionale Grappa and AssoDistil, Consorzio Parmigiano Reggiano, Consorzio Prosecco DOC, DLA Piper – Italy, De Tullio & Partners, Estrategias y Soluciones en Políticas Pública – EYS, Instituto del Artesano Michoacano, Istituto Italiano Salumi Italiani Tutelati – ISIT, INEXTO, INDECOPI/oriGIn Perú, Sustainable Wine Roundtable and Vlinder), and all participants to the 2023 Biennial Meeting.
The oriGIn team