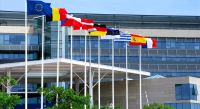 The first time ever the EUIPO grand board of appeal has held an oral hearing is for an indication of geographical source, the name of a State, Iceland (on this case, see an oriGIn article). 
This shows how sensitive GIs and their "poor" relative (indications of source) are, and rightly so as jurists either consciously or unconsciously perceive that loyalty in commercial transactions is affected by the use of geographical signs.
Loyalty in commercial transactions is affected by any practice resulting in "passing-off" "geographical" reputation to low quality goods that have nothing to do with the falsely evoked "geographical" quality, irrespective of whether an indication of geographical source is (already) recognised or registered as a denomination of origin at national or international level or not.
"Alicante" for a French nougat was deemed to be disloyal by the European Court of Justice before the European system of registered GI had been enacted, case C-3/91[1]: worth reading the opinion of the advocate general, the German jurist Carl Otto Lenz, the son of Otto Lenz, former head of the German Chancellery[2].
The reality however is that private companies that make recourse to subterfuges in order to pass off reputation to low quality goods do indeed possess an unbelievable amount of impudence, as the Iceland case teaches: "Iceland" was thus registered as a trademark by a Welsh entity, for foodstuff and retails services.
The EUIPO, in the "ICELAND" case asked to the trademark holder the proper question:
"Can you please explain why you have chosen to use and register the word "Iceland" as a trade mark for the relevant good and services?" (for reasons you can easily imagine there was no answer to this question by the absolutely top lawyers assisting the "Iceland" trade mark holder).
The Board of Appeal eventually confirmed the correct decision of the cancellation division that "ICELAND" trademark is null and void, although in my view for the wrong reason[3].
The reason given is that "ICELAND" is "descriptive", devoid of distinctive character and therefore it cannot function as trademark, which entails the identification of origin from a certain enterprise.
That reason however is not appropriate for a Welsh business. Or better, it would be appropriate for an Icelander business. A Welsh business cannot use "Iceland" as a trademark because that is disloyal, not because "Iceland" is not apt to distinguish the goods or services of a Welsh business.
The recitals of the 1883 Paris Convention on the protection of business intellectual property mentioned that the entire system of intellectual property has one sole purpose: protection from disloyal conduct in business transactions, however we keep forgetting that fundamental truth.
[1] See, https://eur-lex.europa.eu/resource.html?uri=cellar:f6e09211-e2ed-4ac8-b119-3545d4190a62.0002.03/DOC_2&format=PDF)
[2] See: https://eur-lex.europa.eu/legal-content/EN/TXT/PDF/?uri=CELEX:61991CC0003&qid=1675777947120&from=EN